Technical Support
Our Technical Support Service (GTSS) is one of the exceptional areas of services that we offer to our customers. Our customers are confronted with increasing demands and intense competition in their markets, which definitely require them to create new designs for their products and hire new technical personnel to support their efforts. GTSS is capable of working with our customers as strategic partners in the following areas:
Sewing Engineering Services (S.E.S.)
We provide a wide range of technical support services to retailers and vendors. An important aspect of this program is the Sewing Engineering Services (S.E.S.). Our Sewing Engineers share their technical experiences in the areas of:
1. Advice on the most suitable type of thread to be applied.
2. Development of machine settings for sample and prototype garments.
3. Advice on machine setting.
4. Trouble shooting.
5. Productivity enhancement.
6. Minimization of rework.
7. Stitch and seam appearance.
8. Seam construction and recommendation.
9. Thread consumption.
10. Needle recommendation.
Testing
Our in-house laboratories are equipped with the latest testing equipment. We can perform physical and chemical properties tests for any thread products that our customers request.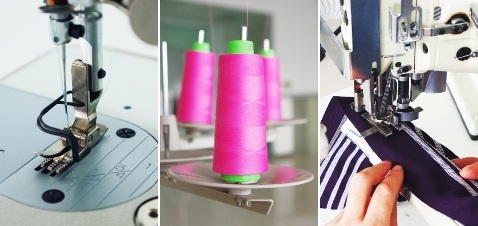 Technical Seminars
We provide in-house seminars on the topics of sewing technology, trouble shooting and design trends. Seminars are organized into beginner, intermediate and advance level.